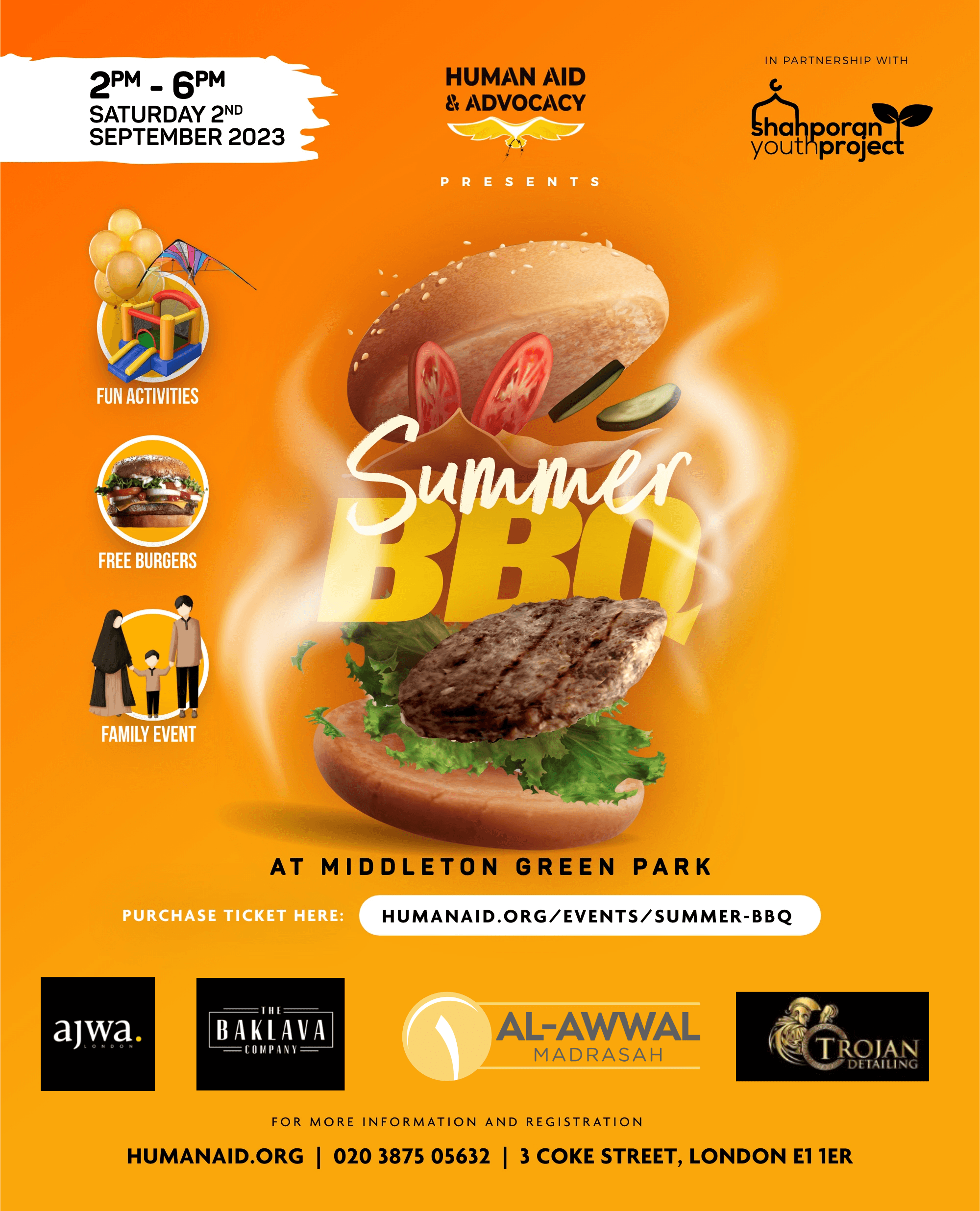 Indulge your taste buds for a worthy cause at our highly anticipated Summer BBQ Event! Prepare for an unforgettable day filled with mouth-watering flavours, delightful time with activities for all, and the joy of giving back. Mark your calendars because this event is not to be missed!
📅 Date: 02/09/23
🕒 Time: 2pm-6pm
🏞️ Location: Middleton Green Park (Near Shahporan Masjid)
🌟 Highlights of the Day:
Delicious BBQ: Savour our FREE mouth-watering burgers fresh off the grill

Family Fun: Bring your loved ones along and let the kids have a great time on the Bouncy Castle. Enjoy the different the stalls that will be set up for everyone to experience.
🔥 Ignite Your Generosity:
As you take in the aroma of grilled goodness, know that any contribution you make goes towards our Hopefund campaign which is our way of making your donation go further and faster to those in need. Our event is dedicated to community engagement and cohesion. By attending, you'll come to know the work Human Aid & Advocacy do to help serve our survivors across several countries.
📣 Spread the Word:
Help us make this event a success by sharing this message with your family, friends, and colleagues. Together, we can make a difference in our community while enjoying a day of delicious food, fun activities, and good company.
Join us in supporting the charitable work done by Human Aid & Advocacy as well as Shahporan Youth Project at this Summer BBQ Event! Together, let's create lasting memories whilst serving our survivors. See you all there, In Sha Allah!